Hello fellow PokerStrategy members! I haven't posted to DE forums before (as my German skills are not that good
) but I thought to share my upcoming Summer Camps to you too.
Link to original thread:
http://www.pokerstrategy.com/forum/thread.php?postid=2017752#post2017752
PLO Summer Camp is a study group that is mentored and coached by Kyyberi. Every camper will receive well over a dozen hours of coaching, full support in Skype and the benefits of fellow students for the price of 10h of normal coaching!
For whom?
PLO Summer Camp is for all the small/low stakes PLO players that want to become a better players. As every camp will have members with similar learning curve, there will be spots for both beginners and more experienced players. The only requirement is that you want to learn and become a better player, and you are willing to do the work for it! And you have to be at least Basic status, as you will need to be able to post in Omaha hand discussions.
Every camper
• will have private coaching evaluation session at the start, middle and end of the camp.
• will have the opportunity to join 3 coaching lectures (groups) and 3 coaching workshops (in pairs).
• will be assigned with homeworks that will help him to become a better player.
All campers will join two private playing sessions where they play just with fellow campers. One is at the beginning of the camp and the other one is at the end of the camp. Both sessions are reviewed with coach and all the hole cards visible.
There are 4-6 campers in the camp, and it lasts for a month. There will be camps held in June and July. If needed, there will be multiple camps at the same time.
Price
Price for the month long PLO Summer Camp is $200. Preferred payment methods are Skrill and PokerStars.
If you would like to join, please send an application from
here
. It will take just couple of minutes, but it ensures that all the campers have the same level and spot in their learning curve. Sendind an application doesn't commit you to the camp yet, I will contact every camper prior of making the commitment.
Check list for the camp
You should have
• Skype
• Microphone
• Teamviewer
• PokerTracker or Holdem Manager
• Equilab Omaha or other equity software
Camp hours are mostly between 7am-4pm CET (07:00-16:00), which is 05:00-14:00 GMT. Coachings and sessions take place between those hours, and every session is scheduled according to campers availability. Camp lasts for a month. If you have any questions feel free to post to this thread or send a PM.
If you find it hard to make these times but are still interested, please send an application and we'll see what we can do.
LINK TO THE APPLICATION
Deadline for June PLO Summer Camp applications is Sunday, 24th of May.
See you at the camp!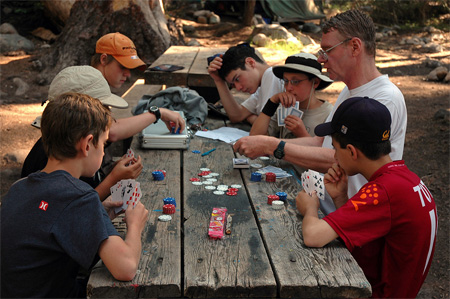 Disclaimer: Summer Camp is organized and held by Kyyberi. PokerStrategy.com is not responsible for any possible issues related to it.